Unlocking SEO Success. How to Elevate Your Online Presence with Top-notch SEO Services in Kelowna!
When searching for a good
SEO company in Kelowna
, it's important to consider several factors to ensure you make the right choice.
Here are eleven things Atomic 55 can bring to the table, and help your business to succeed online:
Experience
Our company has a proven track record of delivering successful SEO campaigns. Want references, or examples of our work, contact us.
Local Knowledge
Atomic 55 is familiar with the Kelowna market, and its unique business challenges. Our tenure of experience, and fortitude will give you additional insights on how to optimize your website effectively.
Reputation
We have been in business for almost 25 years. Our testimonials, case studies and community relationships have shine.  A bright success story can be highlighted in 
Bottega Hair Salon
.
Transparency
Your success is our success. We provide clear and transparent reports on your SEO campaign's progress, including rankings, traffic, and conversions.
Customized Strategies
We will tailor
SEO strategies and digital marketing services
to your specific business goals and needs. This is not a one-size fits all marketing company in order to increase profits.
White-Hat Practices
Our ompany follows ethical SEO practices and adheres to search engine guidelines to avoid penalties, and other roadblocks that can slow you down. All of the work we perform is compmleted in house by people within our company. Let me say it again, none of the work we perform is outsourced to other companies inside or outside of our country.
Content Expertise
Quality content is crucial for SEO success. Our literary geniuses optimize content that resonates with your target audience, and increases your website traffic.
Keyword Research
Effective keyword research is fundamental in your SEO success. Do you know how your customers find you? Do they have intent to buy or are they kicking the tires? Atomic 55 conducts thorough keyword research to target the right audience, and ensure results.
Link Building
We have an ethical and poweful proprietary model of consistent link building. We gaurantee it's natural and high-quality, and increases your page rank and other factors faster that our competitors.
Analytics and Tracking
Our SEO company uses advanced analytics tools to track and measure the performance of your SEO campaign, making data-driven improvements that you can see with your own eyes. In addition, our reports make sense, and are not overwhelming to read so you can understand what is going on.
Unique Tools
With tools like
SYNCRO
, you cannot lose.  We can open new channels of communication with your customers, increase engagement rates that will brighten up your day.
Investing in SEO is the Smartest Business Move You'll Ever Make!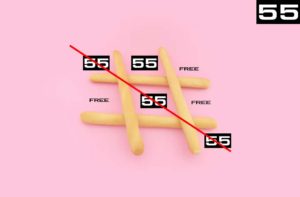 In today's digital age, where online visibility is often synonymous with business success, Search Engine Optimization (SEO) has emerged as a vital strategy for organizations looking to thrive in the digital landscape. Effective SEO requires a deep understanding of search engine algorithms, keyword research, on-page and off-page optimization, technical SEO, content creation, and much more. SEO experts like Atomic 55 invest years in acquiring and honing these skills. We stay up-to-date with ever-evolving search engine algorithms, making our expertise invaluable to your business. Our specialized knowledge and ongoing education will help you to stay ahead of the curve, and give you the necessary time required to focus on your business. 
SEO is not a one-time task but an ongoing process. It involves continuous monitoring, analysis, and adjustments to stay competitive in search engine rankings. At Atomic 55 our SEO professionals invest a significant amount of time in researching keywords, analyzing data, and optimizing content. You can be rest assured that your account is being managed professionally, in a consistent and engaging way, in order to promote increases in website traffic. The digital landscape is fiercely competitive. Your competitors are vying for the top spots in search engine results, especially for high-value keywords. Our job is to keep them from taking your spots, and look at new and innovative ways to keep producing.
SEO costs money but by understanding the multifaceted nature of SEO as an investment, you can create a sustainable online marketing model for success. The expenses associated with SEO are not arbitrary but a reflection of the expertise, time, resources, and ongoing effort required to achieve and maintain strong search engine rankings. Businesses that recognize the value of SEO as a long-term strategy for growth and visibility understand that the associated costs are an investment in their digital future. Ultimately, the returns in terms of organic traffic, conversions, and revenue make SEO a sound and justified expenditure in the digital age.
"I can teach myself SEO right?"
Teaching yourself SEO can be a challenging endeavor, and for many businesses, hiring an expert is a wiser choice.
Here are five reasons why you should not try to teach yourself SEO and instead consider hiring a professional:
Complexity and Constant Changes
SEO is a multifaceted and rapidly evolving field. Google's algorithms and best practices change frequently, making it challenging for beginners to keep up. At Atomic 55 our SEO experts stay updated with these changes and adapt strategies accordingly, ensuring your website remains competitive.
Time-Consuming
Learning SEO from scratch takes a significant amount of time. It involves understanding various aspects such as keyword research, on-page optimization, link building, technical SEO, and analytics. Hiring an expert allows you to focus on your core business activities while they handle the intricacies of SEO.
Risk of Mistakes
SEO mistakes can have detrimental effects on your website's rankings and reputation. Learning through trial and error can lead to costly errors that take time to rectify. Professionals with experience are less likely to make these mistakes and can quickly address any issues that arise.
Competitive Landscape
The digital landscape is highly competitive, and businesses in your industry are likely investing in SEO. Trying to teach yourself SEO may result in falling behind your competitors who have hired experts. An SEO professional can help you create a strategy to outperform competitors and capture market share.
Comprehensive Strategy
SEO is not just about keyword placement but involves a holistic approach to website optimization. It includes technical improvements, content creation, user experience enhancements, and more. An expert can develop a comprehensive strategy tailored to your business goals, ensuring all aspects of SEO are addressed effectively.