D
oing anything at the beginning of the Covid-19 Pandemic was a challenge. Rebranding your business was a risk where the reward could pay off, but with all the unknowns derived from public heath orders & people in general losing the plot any public-facing, service-based business was rightfully on edge. Amber and Leiloni met that challenge in the eyes and quickly set aside any doubt. They were focused and determined to pull off a rebrand of their salon and adapt to the changes that the Pandemic through at them along the way. This was a recipe for success, not only did they make it to the end with a fantastic new makeover, but they are continuing to kill it with hundreds of 5-star Google reviews for their salon. Traffic to their website continues to rise higher and higher each month. Their website is in the number 1 spot across multiple search engines for multiple high-traffic key terms. Solidifying this position was possible with early stage content planning and keyterm research before the website build phase. Each page was meticulously optimized for the key terms we wanted to capture. Once the website was launched we turned our focus to a monthly article and Google Business campaign to bolster results and generate new leads. Call now to get on their waitlist, because BOTTEGA Salon is in demand!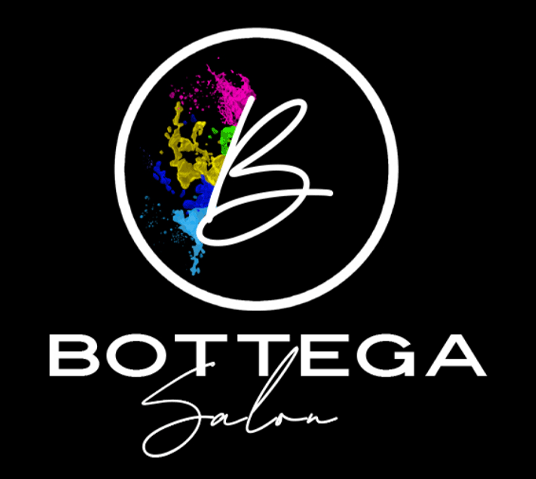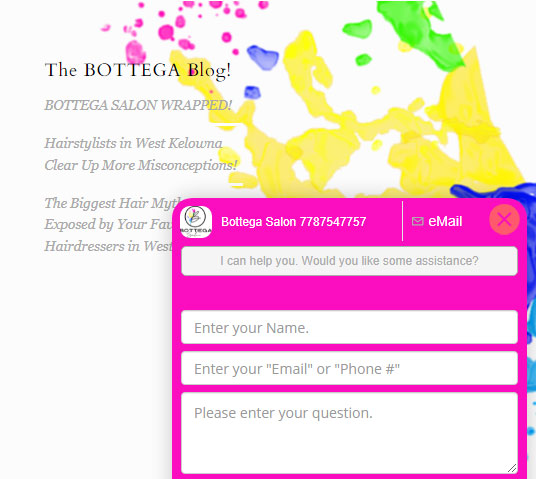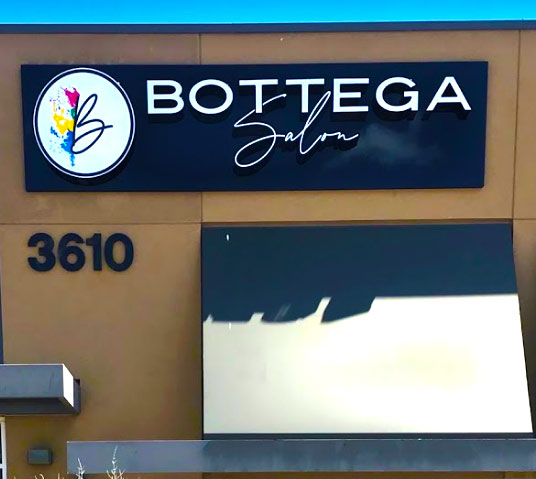 B
OTTEGA needed a custom website to show customers that they meant business. The website needed to tell a story about who BOTTEGA was and what to expect from an experience at their salon. We developed content to show off their features, kind, unpretentious and focused on two very important things - their customers and the planet. Building out their blog articles has given us a vehicle to keep their website maintained and fresh for every new visitor. It also provides us with easily shareable snippets for social media engagement. We collaborate with BOTTEGA to produce articles that will bolster their brand including tips and advice to benefit their customers and the planet at the same time. This website was developed on the WordPress framework with minimal intervention from plugins.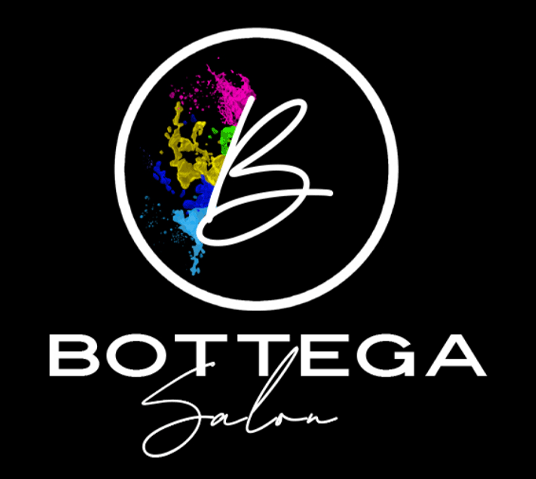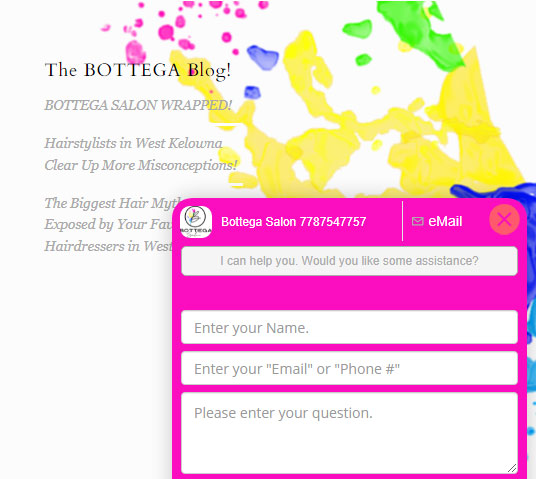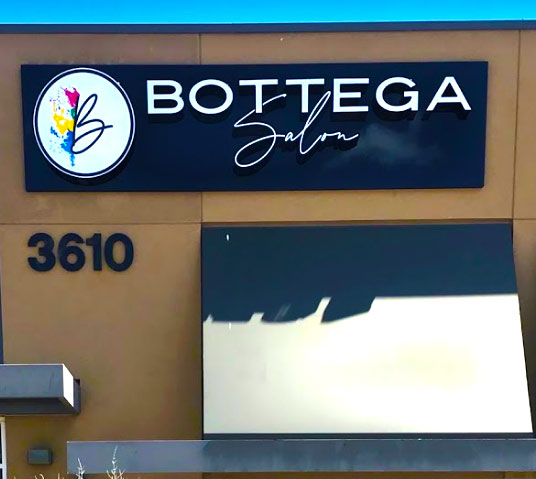 B
randing & logo design was the first step we had to tackle for BOTTEGA. Luckily for us, Amber and Leiloni had done their homework. They knew who they needed to be for their customers and they spent a lot of time making sure they were committed to their message. Sustainable, and approachable. They wanted BOTTEGA to feel as collaborative as the definition was meant to be. Stylists were seen as equal partners and were there to share in the art of hairstyling. Atomic developed a custom logomark using abstract brushes to create a painted look and imply the artistic side of hairstyling. These business owners knew that they wanted anything but boring for their brand. Bright colours were the mandate from the very beginning and once you've met the owners you quickly see that they are anything but dull. The result is a friendly brand that catches the eye. The paint strokes allowed us to create a brand system where we can add splashes of colour for calls to action. The logo was developed as a logo mark and wordmark to use in horizontal and vertical placements. Interior and exterior signage, wraps, business cards, clothing, and more were created from the new logo.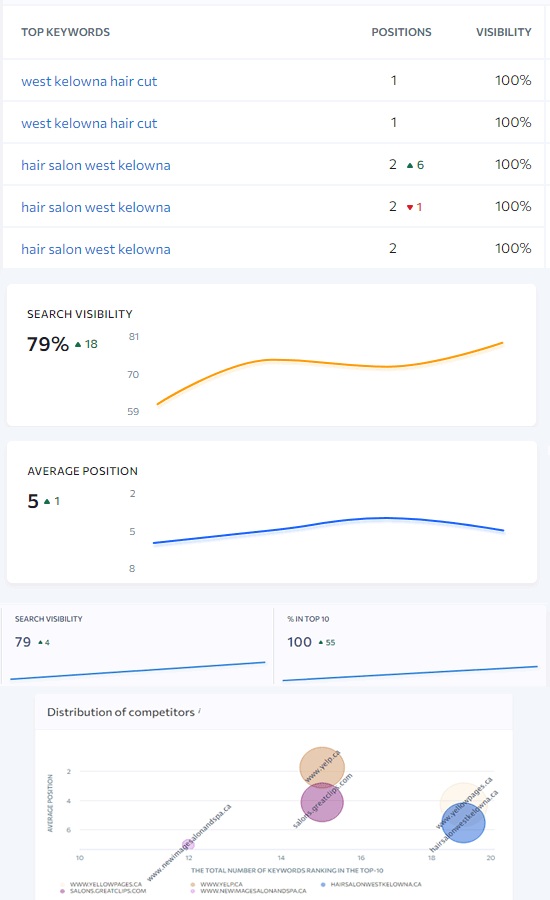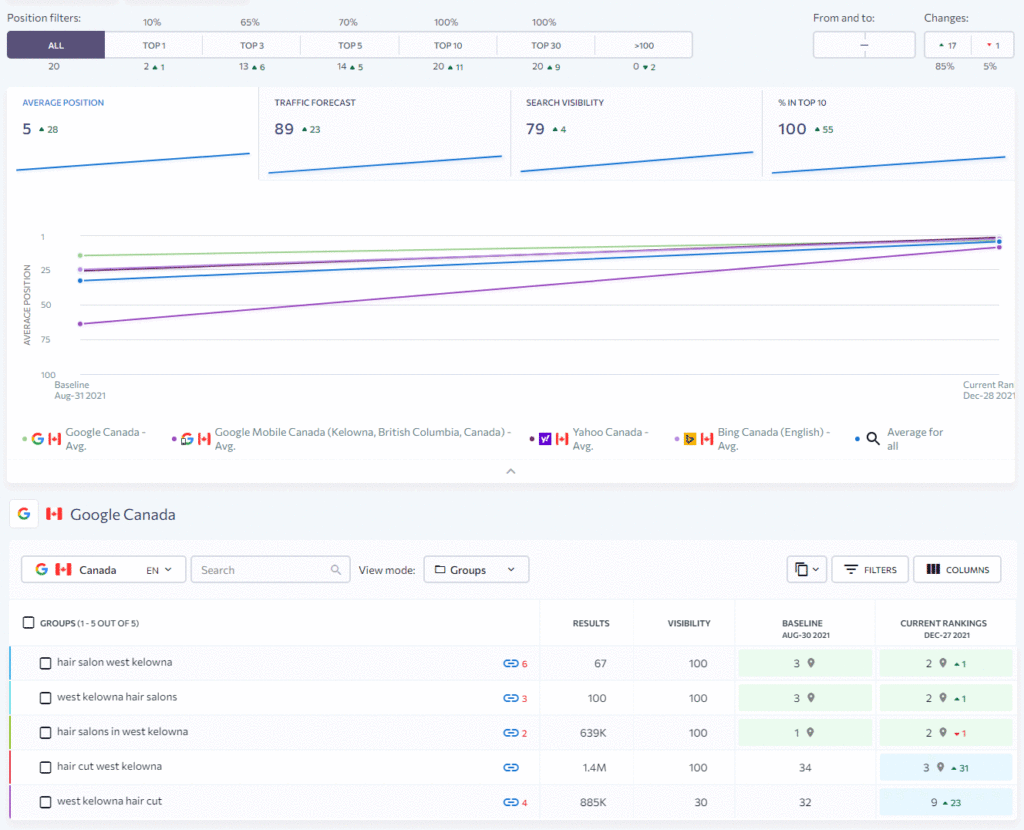 Live
Chat
+
Lead
Generation
S
YNCRO was developed for REALTORS® and when you plug a tool like SYNCRO into a different vertical you can easily see where things have the potential to take on new meaning. This was the case for the chat to text tool in its original form for the busy hair salon in West Kelowna. BOTTEGA Salon generated so much traffic and produced so many chats that they literally couldn't keep up. We removed the website chat and text message mechanisms but kept lead processing the same. That meant that all contact forms and website inquiries were sent redundantly through email and text message. However, the owners didn't need to stress out about providing instant responses with such a high volume of requests. This is a great example of how good software can be adapted. The owners of BOTTEGA don't have to be concerned about missing leads because they're all stored in one central location with SYNCRO. They were able to customize how the lead generation filtered through to them so that it worked for how they wanted to do business. Adaptable, simple lead generation - it works.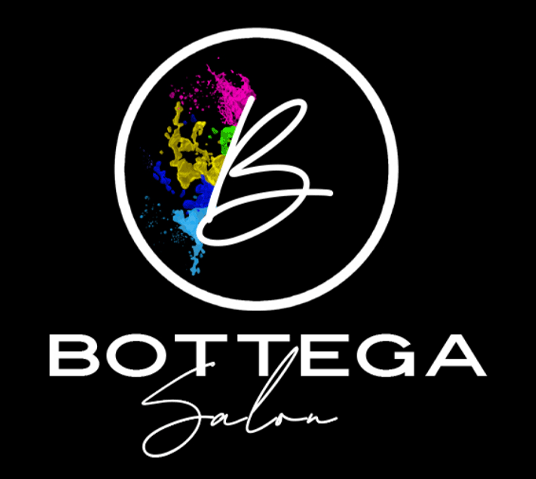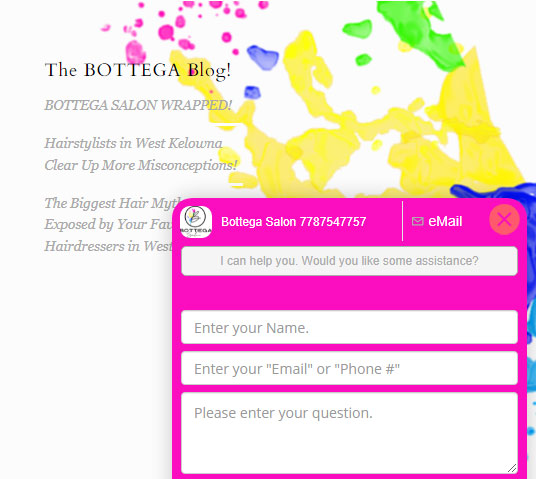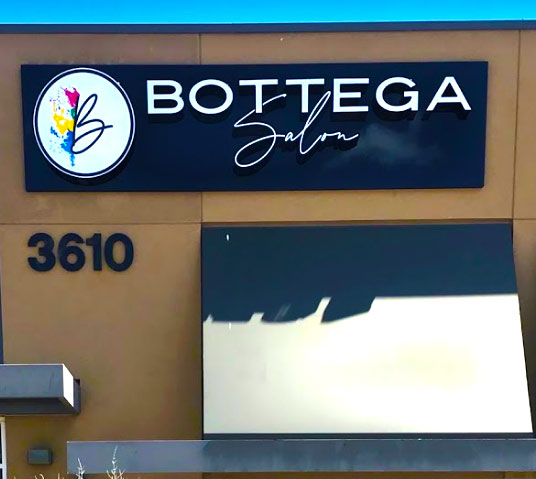 B
OTTEGA is on a monthly retainer with Atomic 55 for digital marketing services. We refer to our managed customers as MWPs. Managed Website Products. Each month we work diligently on BOTTEGA's digital footprint. Plugins are updated, security & speed are maintained and content marketing is carefully planned and executed. We spend several hours each month writing content and sourcing images that we can use to promote BOTTEGA Salon as an expert in the hairstyling space. They help by staying true to their brand, doing great things in their salon for the planet, and responding to the hundreds of 5-star Google reviews that they receive. Working closely together helps us all reach that common goal of attracting the right customers.